It's finally the weekend – and that means: finally a cozy coffee with the family again! What do you have on your table? Maybe a cherry pie, maybe a chocolate cake? No! We're in the middle of the strawberry season … so a strawberry cake belongs on the coffee table!
Also try: Fruity, creamy and so delicious: Good recipe for delicious apricot cake with icing >>
And it does not have to be complicated at all. Strawberry cake with custard is popular, but this simple cake with fresh strawberries is also a punch. Here is the brilliant and simple recipe.
Now reading: Refreshing and delicious! Strawberry and Watermelon Punch: How to turn summer fruits into a soft drink >>
This moist strawberry cake is so delicious, you have to try the recipe!
And it's really a hit, because: you just need simple ingredients for the strawberry shortcake – and the fruits can be replaced as desired. Not only can you bake this fluffy and juicy tin cake during the strawberry season, you can also prepare it with cherries, apples, plums or other berries. Even with canned peaches or tangerines, the cake is a delight!
Now also read: Brilliant recipe – and so simple: This strawberry cake with pudding and crumbs is so good! This is how the world's tastiest strawberry cake works >>
The following also applies to the decoration: Everything that tastes good is allowed. The finished and cooled strawberry cake can be easily powdered with powdered sugar, or you can decorate it with melted chocolate. And what's the matter with that? Whipped cream of course, preferably lightly sweetened and with a dash of vanilla extract. This is how fun it is to drink coffee! Here is the recipe for the delicious strawberry cake.
Also read: Eat like the queen! Three recipes from the German chef at Windsor Castle for the Queen: wild garlic potato stew, avocado tartare and baked apple mousse >>
Ingredients for strawberry cake: You need this
For a plate of strawberry cake you will need: 200 grams of butter, 250 grams of flour, half a packet of baking powder, 4 eggs, a little salt, 500 grams of fresh strawberries, 200 grams of icing sugar, grated peel of a lemon, 100 grams of dark chocolate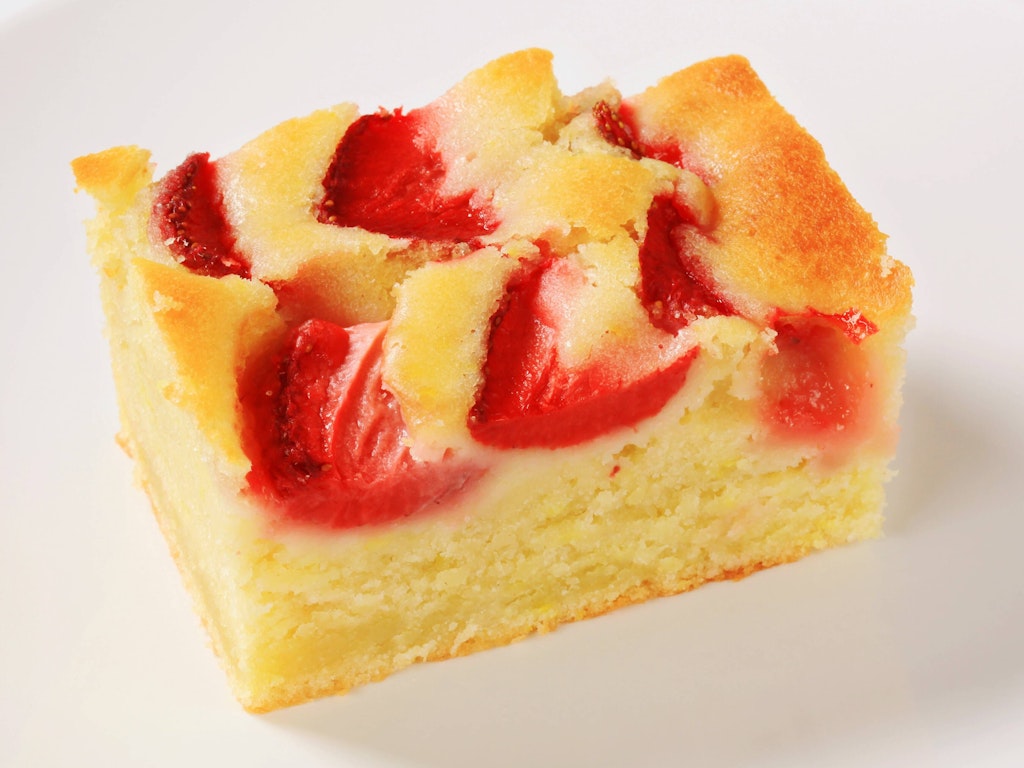 And this is how the strawberry cake works: Put the butter with 170 grams of powdered sugar in a bowl and stir with the hand mixer whisk until fluffy. The mass should be nice and light and creamy at the end. Then stir in the eggs, one at a time, and finally add salt and lemon zest. In a separate bowl, mix together flour and baking powder. Then gradually stir the flour-baking powder mixture into the egg butter mixture until a creamy dough is formed.
Also read: Funny recipes from the GDR: do you know Affenfett and Hoppel Poppel? How to prepare the delicious and simple dishes >>
With this trick, you can get parchment paper in any shape
Preheat the oven to 200 degrees top and bottom heat (200 degrees top and bottom heat). Wash the strawberries, shake them dry and quarter. Line a plate, preferably one with a higher edge, with parchment paper.
Also read: All-round baking powder! Do you already know these five ingenious tricks with the kitchen miracle? You will not believe what is possible with it >>
Tip: Soak a baking sheet paper and twist it out well. The moist paper can easily fit into the mold. Pour the batter into the mold and spread the strawberry pieces over. Bake the strawberry cake in the oven for about 20 minutes until the top is lightly browned.
Read now: Good guide with recipes: How to make the perfect strawberry punch! Delicious, fresh, fruity, tasty – and perfect for a barbecue evening >>