Chicken fricassee is one of the classic home cooking dishes – any hobby chef can prepare this dish of roux, chicken, peas and carrots. But: Do you also know about egg fricassee, the modification of the classic chicken fricassee?
Now reading: Refreshing and delicious! Strawberry and Watermelon Punch: How to turn summer fruits into a soft drink >>
Egg fricassee recipe: You have to cook this homemade meal!
The base is the same, but instead of chicken, boiled eggs end up in the delicious, spicy sauce. The fricassee is served with rice, just like the variant with chicken. Here is a super simple and good recipe for egg fricassee.
You can also read about this now: Brilliant lightning recipe for barbecue evening: This last minute pasta salad you must try! With meat sausage and cheese, it's just good >>
If you want to cook this dish again, you should make sure that the eggs are really hard-boiled. Because: they must not be mashed later in the sauce, they must be firmly firm. Therefore, stir the fricassee very carefully when preparing it. The ideal cooking time for eggs in size M is ten to twelve minutes, then they should be really hard. Here is the delicious basic recipe for delicious egg fricassee.
You can also read about this now: Brilliant recipes like in the GDR: It's as easy to sizzle a real gold broiler in your own oven as in the past! So simple and so good >>
Ingredients for egg fricassee: This is what you need for the delicious dish
You will need: 50 grams of butter, 1 onion, 3 tablespoons of flour, 1 carrot, 400 milliliters of vegetable stock, 400 milliliters of milk, 200 grams of peas, 2 cans of mushrooms, 10 eggs, 5 teaspoons of mustard, sugar, salt and pepper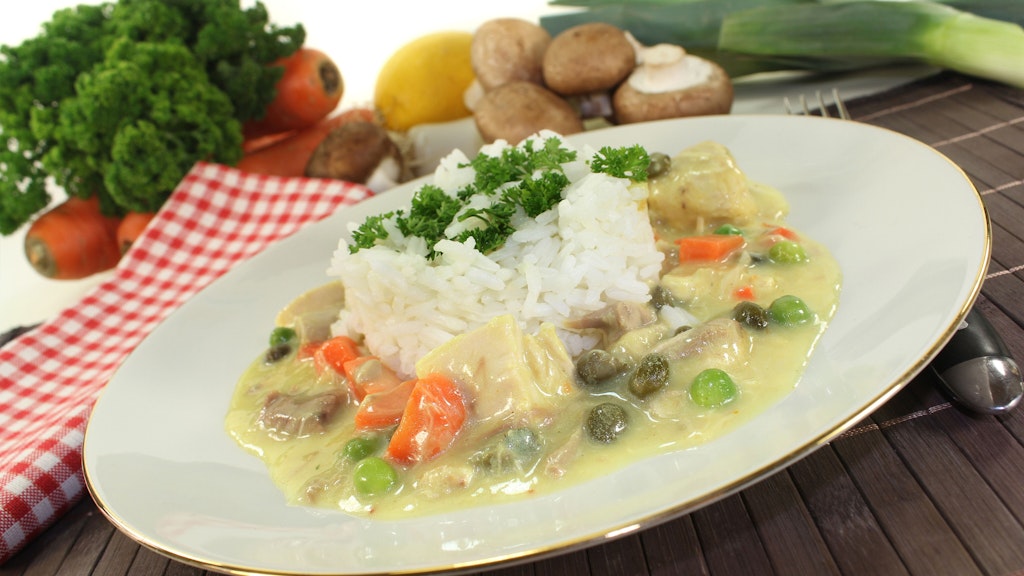 Here's how: Peel the carrots and cut them into small pieces. Peel and finely chop the onion. Boil the eggs – pour enough water into a saucepan, bring to a boil, then add the eggs and cook for twelve minutes. Remove individually, turn off and scale. Then cut into reasonably large pieces.
Read also about this now: Make your own delicious rice porridge with vanilla flavor! This makes the dessert incredibly creamy – just like from the cup in the supermarket >>
Let the peas and mushrooms drain, the mushrooms can also be chopped up a little depending on taste. Then heat some butter in a large saucepan. First, fry the chopped onion, then add the carrot pieces and fry as well.
Recipe for egg fricassee: It will be super tasty with peas and carrots
Now add the flour and let it simmer lightly, then add broth and milk alternately to the saucepan. Important: Stir constantly so that no lumps form! Add the liquid and let everything boil again and again until a wonderfully creamy sauce is formed. If it gets too thick, a splash of milk helps.
Read now also: Ingenious stew from the GDR: How to make a delicious solyanka from leftovers from the grill! >>
Season this roux sauce with salt and pepper. A little nutmeg, mustard and a pinch of sugar give an extra kick. Then add mushrooms and peas to the sauce. Finally, cut the eggs into pieces and stir into the sauce. Serve with rice, mashed potatoes or boiled potatoes. Have a nice meal!
You can also read about this now: Brilliant recipe – and so simple: This strawberry cake with pudding and crumbs is so good! This is how the world's tastiest strawberry cake works >>