Which tastes like summer and holidays in the south … If you like it light and good, you should definitely try these stuffed aubergines with sheep cheese. They are vegetarian, Mediterranean inspired, so delicious and healthy. There is no other way …
Also read: Light and summery: Stuffed peppers with walnuts, mushrooms and tomato sauce – according to grandma's recipe! >>
Incidentally, the eggplant has its black-blue color thanks to the so-called anthocyanins. These are natural dyes that are said to have a strong antioxidant effect. They bind free radicals in the body and thus protect the cells from damage. And that's not all: the substances can even inhibit inflammation and protect blood vessels.
Also read: Incredibly creamy: mandarin cheesecake according to grandma's recipe – without the bottom, but with a lot of love! >>
In combination with garlic, tomatoes, oregano and feta cheese, the aubergines become a taste bomb. You can party without any regrets. Because both good and useful are possible. Here is the recipe:
Stuffed aubergines with sheep cheese – the recipe
By the way, feta cheese consists mostly of sheep's milk. The only difference from classic sheep's cheese: up to 30 percent goat's milk can be mixed in.
Read also: Light, good summer dish: Stuffed peppers with feta cheese, yogurt and rice – here is the delicious recipe >>
You need it
2 medium-sized aubergines, salt, 1 onion, 1 clove of garlic, 2 tablespoons rapeseed oil, 150 grams tomato paste (in a jar), ½ bunch parsley, 1 teaspoon oregano, pepper, 300 grams feta cheese
Also read: Delicious garlic and cheese pan bread: THIS recipe will make it perfect! >>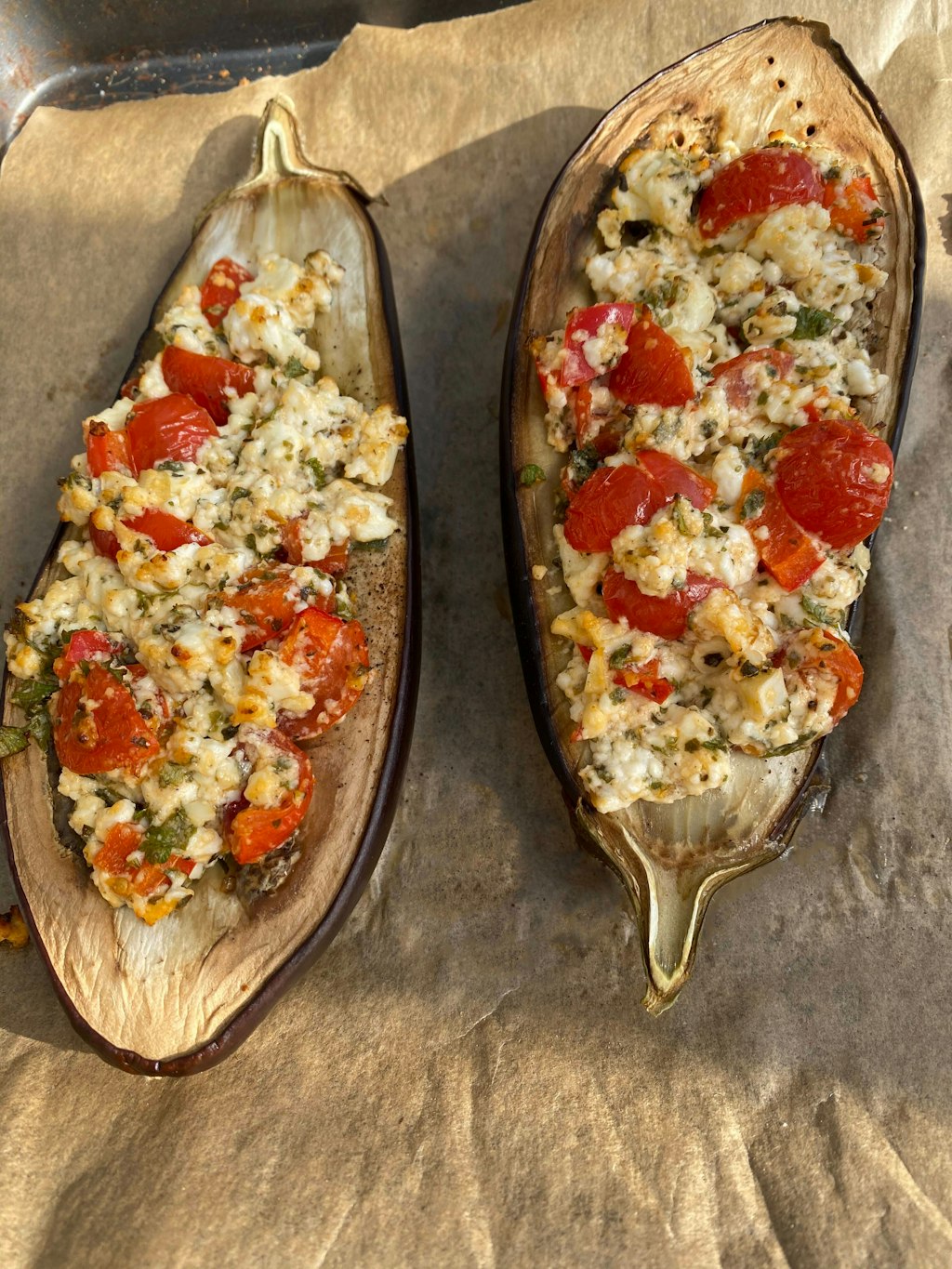 Read also: Saxon potato cake: THIS recipe is perfect for afternoon coffee >>
This is how it is done
Wash the aubergines thoroughly and halve in length. Use a tablespoon and scoop up a little in the middle. Then salt generously and set aside.
Peel the onion and garlic and cut everything into very fine cubes. Add a little oil to a saucepan and fry the onion and garlic until translucent. Add the tomatoes and simmer for about 5 minutes.
Meanwhile, wash the parsley, shake dry and finely chop. Pour about half under the sauce, which you also season with salt, oregano and pepper.
Dry the aubergines and brush them with the tomato sauce. Sprinkle over the rest of the parsley.
Line a baking sheet with parchment paper, place the aubergines and place them in a preheated oven at 200 degrees (180 degree convection oven). They should bake for about 35 minutes in total.
10 minutes before the time runs out, pull out the aubergines and crumble the feta cheese over them. Then it goes back into the oven for the rest of the time. You should definitely serve the aubergines with feta cheese hot. Have a nice meal!